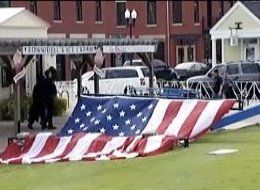 top: a shot of the garbage bags from the Democratic Convention
below
:
KSDK
-- A NewsChannel 5 Photojournalist shot video of a crew taking down the American flag after Sen. McCain's campaign rally in New Town-St. Charles Monday.
In the video, you see the crane lower the flag to the ground and then a crewman cut rope connected to the flag.
Yet another example of right-wing hypocrisy.So the Democrats can't throw out the mini flags from the convention, but the Republicans can drag a house-sized flag on the ground for all to see? God, I can't stand John McCain's lousy campaign.